Stake Online Casino goes the extra mile to ensure an enjoyable experience for its users. They offer a dedicated faucet, which means you can regularly receive free Bitcoin to enhance your gaming enjoyment. What's more, their user interface is truly exceptional, and they provide a legitimate and licensed gambling service.
Since 2017, Stake has been a trailblazer in the online casino industry, offering provably fair games and embracing crypto-oriented payment methods. With a one-of-a-kind user experience to top it off, Stake stands out as one of our preferred choices for cryptocurrency-based casino gaming.
This guide below will show you how register and play at Stake Casino.
Registration
1. Register on Stake simply fill in your information. Use code: PLAYONSTAKE for instant rakeback.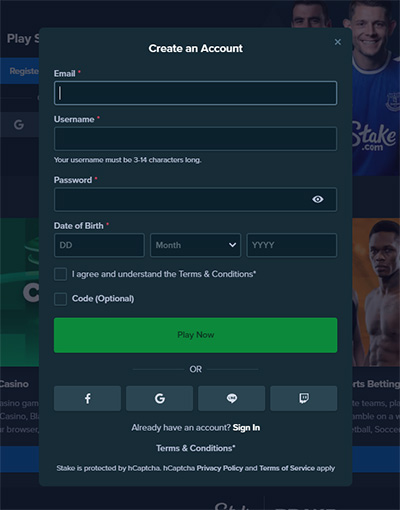 2. You can see your balance at the top (it will be in basic crypto), just click on "Wallet Settings" then enable "Display crypto in fiat" and click on save to display your balance in the choosen fiat currency.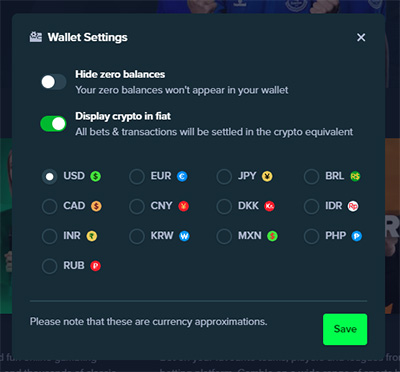 2 Factor Authentication
Since 2-Factor Authentication increases security, we advise enabling it right away.
1. At the top of the screen, click the person icon to get started.
2. Select Security then Settings from the drop-down menu.
3. Enable 2-Factor Authentication.
4. Copy the key code from the Google Authenticator app and paste it.
5. Log into your account using the 6-digit passcode from the app
Deposit
Its time to Deposit!
1. Choose your crypto from the list (I prefer Litecoin or XRP cause of the low fees and transaction speed)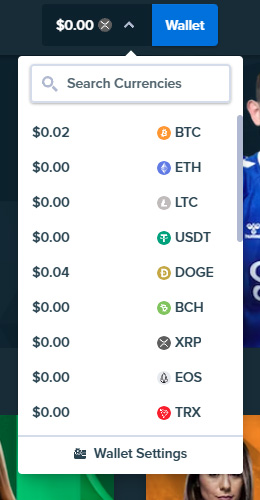 2. Now Click on "Wallet" to show your choosen crypto deposit address.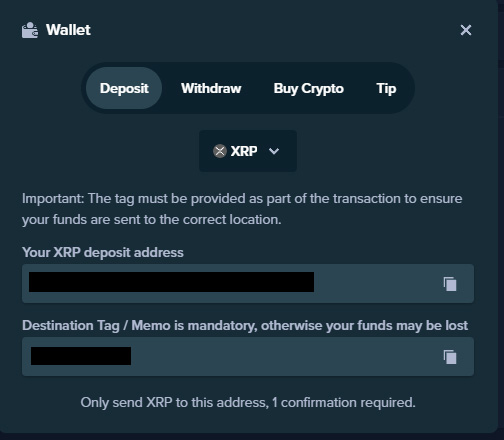 Time to Play! I recommend you to reach your first vip rank as soon as possible to get higher benefits. Check out our Wager Strategy Guide to level fast.
If you currently do not own any cryptocurrency
Option 1: Buy crypto from an exchange
When you purchase cryptocurrency from a platform like Binance, your exchange account will typically include a built-in wallet for storing your balance. To move your cryptocurrency from the exchange wallet to a Stake wallet, simply initiate a transfer to the unique address provided by your Stake account. It is important to ensure that you are transferring the correct type of cryptocurrency - for example, if you purchased Bitcoin (BTC) on the exchange, make sure to transfer it to the Bitcoin wallet on your Stake account and not to an Ethereum (ETH) wallet on your Stake account.
Here are some popular exchanges:
Coinbase would be the simplest exchange account to start with if you are new to cryptocurrencies.
Option 2: Buy crypto directly from Stake
MoonPay and Stake are partners, allowing you to convert your money into cryptocurrency and have it deposited right into your Stake account. You can decide to exchange your fiat for a particular cryptocurrency.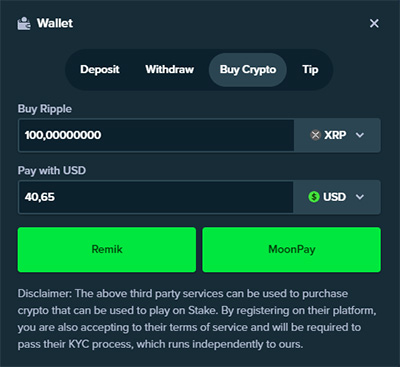 If you own crypto
Simply transfer funds from your crypto wallet to your Stake wallet.
Go to your Stake wallet and copy the address of your wallet. From your external wallet, send the amount you want to Stake to the address you copied. And you are ready to go!
You can also use Stake Dinabot Exchange to switch your crypto in the currency you want. Here you can find a Guide: Stake Dinabot Exchange.
---
Stake Casino FAQ
Which countries are restricted on Stake?
Stake is not accessible from every country, and some locations only have restricted access to the website..
The following nations are prohibited from using Stake:
United States
Australia
Spain
France
Portugal
Iraq
Czech Republic
Belarus
Netherlands
Iran
Cuba
You can use this link to access Stake US, a separate version that is available in the US and offers a 5% rakeback bonus.
Luckily, using a VPN that can allows you to get around these restrictions.
By hiding your real IP address and making it appear as though you are accessing the page from a different location, a VPN will enable you to gamble on Stake from a restricted country.
Some of the best VPN Providers are:
- NordVPN
Can I make a deposit on this website using Bitcoin?
You can deposit and withdraw money in a variety of currencies if you register with Stake.com. Bitcoin is one of the available options and is the most well-liked cryptocurrency among casino players.
Below you find a list with currently accepted cryptocurrencies.
Bitcoin (BTC)
Litecoin (LTC)
Ethereum (ETH)
Bitcoin Cash (BCH)
Dogecoin (DOGE)
Tron (TRX)
Ripple (XRP)
Tether (USDT)
EOS (EOS)
USD Coin (USDC)
Binance Coin (BNB)
Binance USD (BUSD)
ApeCoin (APE)
Chainlink (LINK)
Dai (DAI)
Shiba Inu (SHIB)
The Sandbox (SAND)
Polygon (MATIC)
Uniswap (UNI)