A wide variety of games allow you to bet instantly and increase your VIP rank faster with your bets. Two of these games are Dice and Plinko. Both are original stake games. By putting them in automatic mode, you can place a lot of bets very quickly with low losses. To avoid big losses, you should set these games properly before playing. If you dont have rakeback activated yet just use our Stake Rakeback Code to take high benefits from wagering.
Dice wager Strategy
What is Dice?
Dice is a game where you will have to choose between two options, one being higher and the other lower. This game is based on a random number generator. So if the slider reads 50, then that means the draw would fall within those boundaries (50 or more). If not, then you lose your bet.
Picking a high number (80, for example) increases the risk involved because there's a greater potential gain. Conversely, choosing a low result (10, for example) reduces the amount of risk taken due to the fact that this range is covered by your bet.
The best way to wager on Dice is by setting it up at a 98% chance. This will minimize your risk while stringing the bets together, and make sure you have set a loss limit in case things go bad quickly.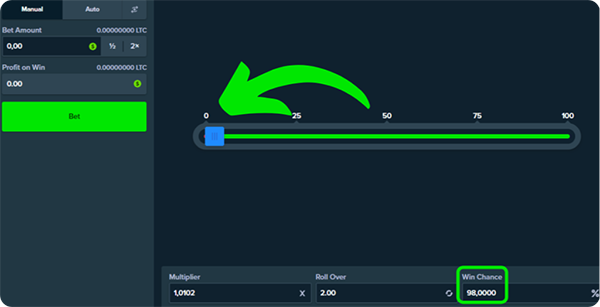 You can creat your own Strategy. But be careful if you don't set up correctly you will loose your balance very fast. It is strongly advised to use it when you are an advanced player.
A lot of other dice strats can be found on YouTube but be careful with your bets.
Plinko wager Strategy
In order to wager easily and quickly on Plinko, you will need to set up a few things. First, decide the amount of your bet. Next, choose the risk (volatility) of your Plinko board by selecting a "low" risk factor. This means that the middle multipliers will be higher but still low at the ends. Finally, select how many lines you want to bet and input your information.
You can set this game in automatic mode.
Keno wager Strategy
The strategy is really simple, just set it up:
– Auto mode.
– Risk: Low
– Choose 10 numbers in total (the position of the 10 numbers does not change anything)
Your selected numbers will be purple