Chat rain is sent randomly by RainBot once per hour.
Eligible users are the ones that have $3000 wagered in the past 7 days and completed Level 2 verification.
Not only that but in order to get some rain you have to be an active player and chatter.
Users can make it rain too!
How to Rain?
1. Type /rain in chat and hit enter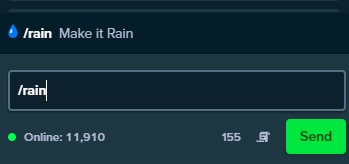 2. Enter amount and number of users who will get the rain randomly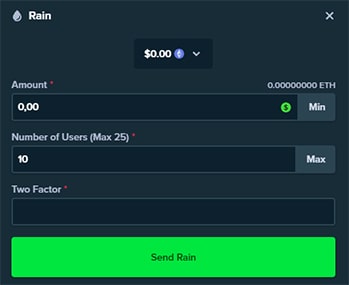 Note that in order to be able to chat, you need to pass the wagering requirement of $500
Stake Chat Rules
- Don't spam, harass or be offensive to other users.
- Do not share personal info of other players. Furthermore, no alts on chat are allowed.
- Avoid using CAPS since they clutter the chat.
- Don't beg or ask for loans, rains from rain-bot, tips or doubling coins.
- No suspicious behavior that can be seen as potential scams. No impersonating!
- Don't engage in any forms of advertising/trading/borrowing or offering services. All traded accounts are permanently muted.
- Don't use URL shortening services. Always submit the real link. No referral links on chat are allowed.
- Use the designated language channels accordingly.
----
BONUS FAQ
Does Stake.com have a VIP bonus?
It's super-common for esports betting sites like Stake.com to offer exclusive VIP bonuses, but you'll usually have to wager above a certain amount to access these high-end deals. Find out what you need to do today.
How do I claim my Stake.com bonus?
There are a ton of incredible Stake.com bonus offers available right now, but you'll need to follow a few important steps before you can claim them.
Is Stake.com any good for bonuses?
Stake.com offers several bonuses and each one functions in a slightly different way to the next. Compare the latest Stake.com special offers with what competitors have up for grabs today..
Does Stake.com offer free bets?
Whether you're looking for sports or online casino games, Stake.com offers a bit of everything and often rotates its bonuses to appeal to different customers. Find out what's up for grabs right now.
How do I get a monthly Stake.com bonus?
Stake.com offers a variety of exclusive bonuses to its existing players, including daily, weekly and monthly deals – but what do bettors need to do to get their hands on them? Find out today.